Dr Sarah Meer, Selwyn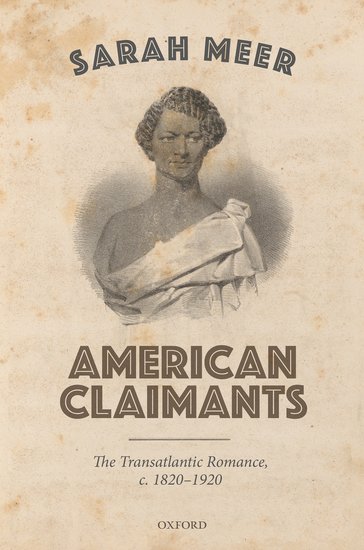 Biographical Information
Sarah Meer is a Senior University Lecturer in English, and is also a Fellow and a Director of Studies at Selwyn College.
She took her BA and PhD degrees at Jesus College, Cambridge, and was the Keasbey Research Fellow in American Studies at Selwyn College between 1995-1998. She lectured at Nottingham Trent University during 1998-2003.
Her book Uncle Tom Mania was a finalist for the George Freedley Memorial Award and was widely reviewed, including in Victorian Studies, New England Quarterly, Legacy, American Literature, Journal of American Culture, Journal of Southern History, Journal of African American History, American Literary Scholarship, Civil War Book Review, Slavery and Abolition. Its first chapter has been reprinted in Elizabeth Ammons, ed. Harriet Beecher Stowe's Uncle Tom's Cabin: A Casebook (Oxford University Press, 2007) and partially reprinted in Harold Bloom, ed. Harriet Beecher Stowe's Uncle Tom's Cabin (Chelsea House, 2008).
Current research projects grow out of the different strands of Uncle Tom Mania.
She is finishing a book for Oxford University Press called Cousins and Claimants: Transatlantic Notions, 1820-1920. This explores persistent ways of imagining, dramatizing and conducting transatlantic contacts over a hundred years. It uncovers a specifically transatlantic version of an old romance plot – that of the lost heir. In the figure of the American Claimant, the King-Over-The-Water became a Republican. The device appeared in British, American, and South African texts, and in extremely various incarnations, comic, ironic, and political. Cousins argues that the claimant figure complicates some discourses we often associate with the Atlantic world, such as revolution, slavery and abolition, and it draws attention to more – racial segregation, education, class, and clothes. Among the clothes and styles discussed are Fauntleroy Suits, Bloomers, Dundreary Whiskers, monocles. Among the texts are 'Yankee-in London' plays, Our American Cousin, Bleak House, The Marble Faun, A Connecticut Yankee in King Arthur's Court, Frederick Douglass' Paper. The people include Julia Griffiths, Amelia Bloomer, William Wetmore Story, Sojourner Truth, Harriet Beecher Stowe, Frances Hodgson Burnett, Alexander Crummell, Yolande Du Bois, H. Rider Haggard, John Buchan, George Heaton Nicholls and John Dube.
Further down the pipeline is a book on nineteenth-century theatre, adaptation and international encounters — Dion Boucicault and the Adaptive Age.
She was one of the convenors of the Society for Theatre Research's 2016 conference, Theatre in the Regency Era, and she is a member of the advisory boards of the Journal of Transnational American Studies and FORECAAST (Forum for European Contributions to African American Studies).
Research Interests
Nineteenth-century literature and culture, including fiction, memoir and popular theatre. Transatlantic connections. Slavery and Abolition.
Areas of Graduate Supervision
Nineteenth-century and American topics
Selected Publications
'Frederick Douglass, Orator', History Now 50 ( special edition: Frederick Douglass at 200, Winter 2018)
'Melodrama and Race', Cambridge Companion to English Melodrama, ed. Carolyn Williams (Cambridge University Press, 2018)
'Adaptation, Originality and Law: Dion Boucicault and Charles Reade', Nineteenth Century Literature and Film, 2016
'Slave Narratives as Literature', Cambridge Companion to Slavery in American Literature, ed. Ezra Tawil (Cambridge University Press, 2016)
'Old Master Letters and Letters From the Old World: The Uses of Correspondence in Frederick Douglass's Newspapers', Edinburgh Companion to Nineteenth-Century American Letters and Letter-Writing, ed. Celeste Marie Bernier, Judie Newman, Matthew Pethers (Edinburgh University Press, 2016)
'Minstrelsy and Uncle Tom', in The Oxford Handbook of American Drama ed. Jeffrey Richards and Heather Nathans (Oxford University Press, 2014)
'Foreign Constellations in a National Drama: Becoming American in Boucicault's Belle Lamar', Nineteenth-Century Theatre and Film, 39/2, 2012
'Public and Personal Letters: Julia Griffiths and Frederick Douglass's Paper', Slavery and Abolition 33, 2012
'Chapter XXX' Commentary for Uncle Tom's Cabin in the National Era (online republication): Harriet Beecher Stowe-Center, Hartford, 2012 http://nationalera.wordpress.com/further-reading/1753-2/
'Three Farces' (translated into Japanese by Beniko Imamura) - Higeki Kigeki (Tragedy and Comedy: Japanese theatrical magazine), 2011
'Boucicault's Misdirections: Race, Transatlantic Theatre and Social Position in The Octoroon', Atlantic Studies 6, 2009
'Douglass as Orator and Editor', The Cambridge Companion to Frederick Douglass, ed. Maurice E. Lee, 2009
'Dion Boucicault, the "Political Shaughraun": Transatlantic Irishness and an International Theatre', Symbiosis: A Journal of Anglo-American Literary Relations 10, 2006
(with Denise Kohn and Emily B Todd), 'Introduction: Reading Stowe as a Transatlantic Writer', Transatlantic Stowe: Harriet Beecher Stowe and European Culture, ed. Denise Kohn, Sarah Meer, and Emily B. Todd (University of Iowa Press, 2006)
'The Libyan Sibyl: Slavery, Neoclassical Images, and a Non-Atlantic Africa', Complexions of Race: the African Atlantic, eds. Fritz Gysin and Cynthia S. Hamilton, (LIT. Verlag, 2005)
Uncle Tom Mania: Slavery, Minstrelsy and Transatlantic Culture in the 1850s (University of Georgia Press, 2005)
'Competing Representations: Douglass, the Ethiopian Serenaders and Ethnic Exhibition in London', Liberating Sojourn: Frederick Douglass and Transatlantic Reform, eds. Martin Crawford and Alan Rice (University of Georgia Press, 1999)