Dr Trudi Tate, Clare Hall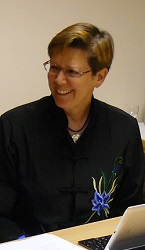 Biographical Information
My first degrees were taken at the University of Western Australia and I have a PhD from Darwin College, University of Cambridge (1994). I have taught at the Universities of Edinburgh, Western Australia, and Southampton. In 1999 and 2000 I was a Visiting Professor at the Goethe University, Frankfurt. I am now a Fellow, Tutor and Praelector of Clare Hall (elected 2001) and an Affiliated Lecturer in the Faculty of English.
Research Interests
I have published a number of books on writings of the First World War. I recently co-edited a collection of essays with Kate Kennedy on cultural responses in Britain and Germany to the 1918 Armistice. This is entitled The Silent Morning: Culture and Memory After the Armistice and was published by Manchester University Press in 2013, with a paperback in 2015. Another recent book is an oral history of Australian memories of the American/Viet Nam War, entitled The Listening Watch, published in 2013. My first monograph, Modernism, History and the First World War, was updated and republished as a paperback and eBook by Humanities eBooks in 2013.
Ongoing research interests include: literature and psychoanalysis; literature and the press; Virginia Woolf; writings about the First World War; narratives of the American/Viet Nam War; contemporary Vietnamese diaspora writers; representations of the Crimean War. I gave a keynote paper on the 1855 Fall of Sebastopol at a Crimean War conference at the National Army Museum, June 2013. I have co-organised three large international conferences on Modernism, and conferences on Ivor Gurney and on First World War music and literature. In the 1990s I was co-organiser of the London Modernism Seminar.
I give talks on literature to school students and to teachers and I lecture for the Sutton Trust. I have taught many courses for the International Summer School in Cambridge. I am founder and director of Literature Cambridge, which runs annual summer courses on Virginia Woolf and other topics, and intensive day courses at Stapleford Granary. http://www.literaturecambridge.co.uk
At present I am writing a A Short History of the Crimean War for I. B. Tauris. This interweaves the military and political history of the war with the history of representations. I discuss literature, the press, and photography. An essay on the Fall of Sebastopol was published in 2015.
I am Reviews Editor for the academic journal, Women: A Cultural Review.
Areas of Graduate Supervision
Modernism and other writings of the early 20thC, including Elizabeth Bowen, Joseph Conrad, William Faulkner, Ford Madox Ford, E. M. Forster, HD, D. H. Lawrence, Katherine Mansfield, Jean Rhys, Dorothy Richardson, May Sinclair, Sylvia Townsend Warner, Evelyn Waugh, Virginia Woolf.
British women writers since the 1950s, including Anita Brookner, Brigid Brophy, A. S. Byatt, Doris Lessing, Iris Murdoch, Muriel Spark, Rose Tremain.
War writings of the 19th and 20thC.
Literature and the press 1850s to the present.
The novel in history, including Dickens, Woolf, Ishiguro, Tremain.
Literature and psychoanalysis.
Contemporary Vietnamese writings in English, including Angie Chau, Linh Dinh, Bich Minh Nguyen, Viet Nguyen, Andrew Pham, Aimee Phan, Le Thi Diem Thuy, Kim Thuy, Monique Truong.
American and Australian veterans' memoirs of the American/Viet Nam War.
I contribute to teaching and supervision for the Modern and Contemporary MPhil, the American MPhil and the Criticism and Culture MPhil.
Selected Publications
Trudi Tate, 'Sebastopol: On the Fall of a City', 19: Interdisciplinary Studies in the Long Nineteenth Century, 20 (2015). http://www.19.bbk.ac.uk/articles/10.16995/ntn.720/
The Silent Morning: Culture and Memory after the Armistice, ed.

Trudi Tate and Kate Kennedy.

Manchester University Press, 2013; paperback 2015
Trudi Tate, 'King Baby' in The Silent Morning
Trudi Tate, 2nd edition of Modernism, History and the First World War. Humanities eBooks, Sept. 2013
Trudi Tate, The Listening Watch: Memories of Viet Nam. Kindle, 2013
Richard Chatterton, V.C. (1915) by Ruby M. Ayes, ed. and introduced by Trudi Tate. Vol. 2 of British Literature of World War I, general editors Andrew Maunder and Angela K. Smith. Pickering and Chatto, 2011
First World War Studies Journal, vol. 2, no. 1, special issue, Literature and Music of the First World War, ed. Kate Kennedy and Trudi Tate, March 2011
Trudi Tate, 'The First World War: British Writing', in The Cambridge Companion to War Writing, ed. Kate McLoughlin. Cambridge University Press, 2009.
Trudi Tate, 'Displacement: Andrew Pham', Quadrant 53, 2009
Ivor Gurney Society Journal, special issue, Ivor Gurney: Poet, Composer, ed. Kate Kennedy and Trudi Tate, 2007
Trudi Tate, 'Afterlives of Virginia Woolf', Quadrant 50, 2006
Trudi Tate, 'Feeling Crook', on Peter Haran and Robert Kearney, Flashback, Quadrant 49, 2005
Literature, Science, Pyschoanalysis 1830-1970: Essays in Honour of Gillian Beer, ed. Helen Small and Trudi Tate, Oxford University Press, 2003
Trudi Tate, 'On Not Knowing Why: Memorialising the Light Brigade', in Literature, Science, Pyschoanalysis
Trudi Tate, 'Stop Whispering', Quadrant 46, 2002
Con Coroneos and Trudi Tate, 'Lawrence's Tales', Cambridge Companion to D H Lawrence, ed. Anne Fernihough, Cambridge University Press, 2001, 103-18
Trudi Tate, 'Black Dogs', Quadrant 45.9, 2001
Trudi Tate, 'Unforgiven', Quadrant 45.4, 2001
Trudi Tate, Modernism, History and the First World War, Manchester University Press, 1998
Women's Fiction and the Great War, ed. Suzanne Raitt and Trudi Tate, Oxford University Press, 1997
Trudi Tate, ed., Women, Men and the Great War: An Anthology of Stories, Manchester University Press, 1995
That Kind of Woman: Stories from the Left Bank and Beyond, ed. Bronte Adams and Trudi Tate. Virago, 1991; 1997
Journey to Paradise, short stories by Dorothy Richardson, ed. Trudi Tate. Virago, 1989
Webpage: https://truditateblog.wordpress.com