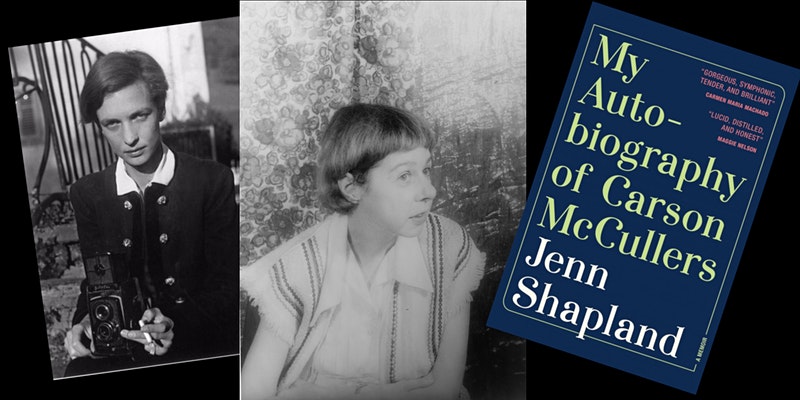 11th November 2020, 16:00 to 17:00, Online (Zoom)
A 20th and 21st Century Research Seminar, Durham University. This event is open to all, including members of the public. Register via Eventbrite.
While working as an intern in the archives at the Harry Ransom Center, Jenn Shapland encountered the love letters of Carson McCullers and a woman named Annemarie—letters that are tender, intimate, and unabashed in their feelings. Shapland recognized herself in the letters' language but did not see Carson as history has portrayed her. And so, Shapland was compelled to undertake a recovery of the full narrative and language of Carson's life. Longlisted for the National Book Award, My Autobiography of Carson McCullers combines memoir and biography to articulate the often solitary and unspoken search for identity in figures from the past. In genre-defying vignettes, Shapland interweaves her own story with Carson's to create a vital new portrait of one of America's most beloved writers, and shows us how the writers we love and the stories we tell about ourselves make us who we are.
Jenn Shapland is a writer living in New Mexico. Her essay "Finders, Keepers" won a 2017 Pushcart Prize, and she was awarded the 2019 Rabkin Foundation Award for art journalism. She has a PhD in English from the University of Texas at Austin. Her work has received support from the Georgia O'Keeffe fellowship, residencies at Ucross, Yaddo, the Carson McCullers Center for Artists and Musicians, and Vermont Studio Center, the Tin House Writers Workshop, and the Harry Ransom Center graduate internship.
To get your Zoom logon, register via Eventbrite. For further queries, contact Joshua Pugh (david.j.pugh@durham.ac.uk) or Noreen Masud (noreen.masud@durham.ac.uk)
Contact david.j.pugh@durham.ac.uk for more information about this event.