'[P]ostcolonial is a word on everyone's lips, even if no one seems to know what it means'
– Graham Huggan (The Postcolonial Exotic, p. 1)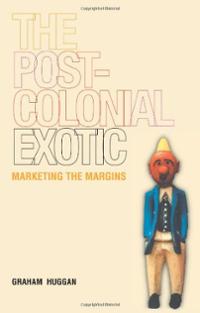 I put forward Huggan's introduction to the Postcolonial Exotic with the most abjectly selfish intentions. The Contemporaries research group is, at its heart, an eclectic collection of readers who all work on a body of authors creating literature in the same time period but who are all up to fairly different things. I wondered how the group would respond to the opening of a work that caused a fairly wide ripple in the pool of postcolonial studies but seems not to have touched any other sub-disciplines; how we would go about discussing a text whose ideas have spectacularly wide-reading implications but which positions itself, immediately, as only about this hard to define thing dubbed the 'postcolonial'.
Huggan's book is, in the main, about the commodification of cultural difference. It argues that postcolonial authors, broadly those who write about or on behalf of the developing world, exist in an international literary market whose mainstream readers use their texts like tourists use  foreign spaces: in search of the exotic. For Huggan,
'the exotic is not, as is often supposed, an inherent quality to be found 'in' certain people, distinctive objects, or specific places; exoticism describes, rather, a particular mode of aesthetic perception – one which renders people, objects and places strange even as it domesticates them . . . Exoticism, in this context, might be described as a kind of semiotic circuit that oscillates between the opposite poles of strangeness and familiarity' (p. 13).
Thus postcolonial writers are exoticised – made different and marketed for their difference in a way that acts to subordinate and control their products and the people and places they represent.
Our conversation, as I remember it, mainly assessed Huggan's argument and clarified his claims. At least one participant asked why the text made such a splash – and how and why Huggan's presentation of these contentions restricted itself to the postcolonial sphere – surely all authors' objects are similarly 'exoticised'? Of the things we touched upon the most productive aspect of the conversation dwelled on Huggan's unspoken indictment of all English academics focused on the contemporary (if not 'all' full stop). If we follow his argument to its logical limit, in some sense all of our practice acts to domesticate the strange – our whole function is to select texts that help us to condense peoples, periods, preoccupations and affects into single sentences or bodies of works or pithy lines. We distil complex texts, in conjunction with marketers, agents and editors, into syllabus-fitting and often singular concepts. The biggest question raised, one we couldn't quite fully cover, was: How do we not commodify?