Spenser Studies
A RENAISSANCE POETRY ANNUAL
Edited by William A. Oram,
Andrew Escobedo, and
Susannah B. Monta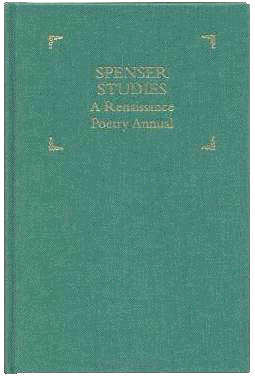 SPENSER Studies: A Renaissance Poetry Annual is, as its name suggests, a journal devoted to the study of Edmund Spenser and the poetry of his immediate context, early modern England. We welcome submissions that examine Spenser's place in literary history, the social and religious contexts of his writing, and the philosophical and conceptual problems he grapples with in his art. Beside articles directly concerned with Spenser's poetry, past issues have contained studies ranging from the diction of Stephen Hawes to female authorship in Mary Wroth's Urania to the influence of English Renaissance sonneteers on William Butler Yeats.
THE three editors of the journal, to whom all correspondence should be addressed, are William A. Oram, Andrew Escobedo and Susannah B. Monta. The editorial board of the journal comprises the following members:
Judith Anderson
Kenneth Borris
Patrick Cheney
Jeff Dolven
Andrew Hadfield
Margaret Hannay
Carol Kaske
Clare R. Kinney

Joseph Loewenstein
Richard McCabe
Richard McCoy
David Lee Miller
James Nohrnberg
Beth Quitslund
Lauren Silberman
John Watkins
ALL manuscripts should be sent as email attachments (preferably in a Windows-compatible format) to the editors at the following addresses: woram@smith.edu; escobedo@ohio.edu, and Susannah.B.Monta.1@nd.edu. Essays should be paginated (top right-hand corner) and double-spaced, including notes, which should be grouped at the end and should be prepared according to The Chicago Manual of Style. Authors of essay-length manuscripts should enclose an abstract of 100-150 words. Contributors without email are welcome to send three copies of the manuscript to the editors at their snail mail addresses:
Susannah B. Monta
Department of English
356 O'Shaughnessy Hall
University of Notre Dame
Notre Dame, IN 46556.

William A. Oram
Department of English
Smith College
Northampton, MA 01063

Andrew Escobedo
English Department
360 Ellis Hall
Ohio University
Athens, OH 45701
Once a paper has been accepted, a final revised version should be submitted by email, including the summary abstract for publication at the front of the article.
The journal also includes a section, "Gleanings," for short notices of matters that might interest Spenserians and others interested in Renaissance poetry. Another section, "Forum," includes occasional short replies to articles appearing in recent issues. The editors will be happy to consider enquiries regarding submissions to either of these sections. The journal does not publish book reviews.
Potential contributors are welcome to email the editors with inquiries by post or by email at the addresses given above.
SPENSER Studies is published annually by AMS Press, Inc., and all subscription requests should be directed to the publisher at the following address or telephone/fax numbers:
AMS Press, Inc.
Brooklyn Navy Yard
63 Flushing Avenue Unit #221
Brooklyn, NY 11205-1073
USA
email: editorial@amspressinc.com
fax: 718-875-3800