Visiting Scholars at The Faculty of English
Before applying to become a visiting scholar with the Faculty, you should read our information (links below).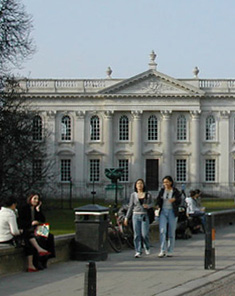 To apply, you must send us:
Your completed application form
Two letters of recommendation and a current CV
A clear indication of how you intend to pay the fees
It should be noted that the Faculty of English is not concerned with the teaching of the English language to non-native speakers, but is foremost a department concerned with research and the teaching in the field of English Literature. Should you wish to work on your English rather than do research in English literature, please visit this website: http://www.langcen.cam.ac.uk/
In recent years, we have had visiting scholars from Australia, China, Ireland, Japan, South Africa, and Switzerland, and the Faculty of English invites qualified senior scholars from overseas to be affiliated to the Faculty during a short period of leave spent in Cambridge.
Contact us on visitors@english.cam.ac.uk if you have any general enquiries about becoming a visiting scholar.

How to Apply for Visiting Scholar Status at English
Before applying, please ensure that you are aware of the facilities that are offered when securing visiting scholar status. You will also need to check visa requirements and organise your accommodation if you are granted visiting scholar status.
Please do not apply to become an Visiting Scholar more than 18 months before your planned arrival date in Cambridge.
It is essential that you provide a CV and two letters of recommendation these can be from your supervisor or Head of Department on your University's headed paper, stating the reasons why it would be helpful for you to spend time in Cambridge.
Applications will be considered twice a term.
Download the Application form (PDF, 88KB)
This form must be returned not less than three months before the date of intended arrival to: visitors@english.cam.ac.uk
or
Lisa Gold
Faculty of English
9 West Road
Cambridge CB3 9DP
Privacy notice
For further details on what we do with your personal information please visit the University Information Compliance web site.
Fees and Deposits
Visiting Scholars spend between three and a maximum of twelve months associated with the Faculty and pay a fee, currently £2,400 sterling, per year or £600 sterling per term. The balance can be paid online at your arrival in Cambridge.
If you wish to change the dates that you plan to be an visiting scholar at the Faculty of English. You will be charged an additional administrative fee of £25.00, which you will be asked to pay at your induction.
Requirements for Visiting Scholars
The Faculty of English invites qualified senior scholars from overseas to be affiliated to the Faculty during a short period of leave spent in Cambridge. Applicants must hold a senior position in their University and normally have a Ph.D. The Faculty assumes that visitors will be in Cambridge to pursue their independent research and does not provide or arrange academic supervision. Information about healthcare and medical insurance can be found at the Universitiy web site
Visa Procedure
On 1 February 1988, Her Majesty's Government introduced a standard period of six months for which visitor status is granted on arrival in the United Kingdom. Visitors qualifying for the visiting scholar concession (for whom work permits are accordingly not required) remain entitled to visitor status for up to 12 months. The Home Office will issue guidance to immigration officers to this effect. Such visitors should continue to claim the 12 months' concession on arrival, on the basis of written confirmation from their host institutions of the nature, duration and funding of their appointments. Visitors who receive only the six months concession on arrival may subsequently apply for its extension to 12 months.
The Best Time to Visit the Faculty of English
The academic year at Cambridge is divided into three terms. The Michaelmas term runs from October to early December. The Lent term runs from January to March. In the Michaelmas and Lent terms there are eight weeks of lectures, classes and seminars. The Easter term begins in April, but there are only four weeks with fewer lectures and classes. This is because examinations are held at the end of May and in early June. The exact dates of each term can be found on the University's website.
The University long vacation begins in mid-June and lasts until the beginning of October. Many people are away at this time and the Faculty provides no teaching or events. The libraries may also open for shorter hours and may close completely for short periods. We do not advise a visit to Cambridge in the spring or summer unless you are intending to stay a full year.
Accommodation
The Faculty of English is unable to help with accommodation, so visitors may find it helpful to contact:
University of Cambridge Accommodation Service
Kellet Lodge
Tennis Court Road
Cambridge CB2 1QJ
Tel. 01223 338099
email: accommodation.service@admin.cam.ac.uk
Please bear in mind that the cost of living and accommodation costs in Cambridge are expensive.
Facilities Provided for Visiting Scholars
The following are provided for official visitors to the Faculty of English – if you are affiliated with a college rather than the Faculty of English, your college will partly arrange these privileges.
Cambridge University email address and limited use of University and Faculty computing facilities;
Use of the English Faculty Library and introduction to the University Library to secure borrowing rights;
Admission to most undergraduate lectures and workshops;
Invitations to Faculty special events and receptions;
Membership of a college does not imply membership of the University. The College will normally apply for reading and/or borrowing rights at the University Library for its visiting members, if they are eligible for these rights.