Two stories side-by-side in yesterday's Guardian, on the waning of print institutions.
On the left, 'End of the line for Yellow Pages in print' notes that, from January 2019, the distinctive bright-yellow, large-format paperback that has circulated UK business telephone numbers for more than fifty years is to cease publication. The practice of printing directories on yellow paper apparently dates back to 1883, when a printer in Cheyenne, Wyoming ran out of white paper and turned to a stock of yellow instead. (But why did he have so much yellow paper to hand?) The English version has been going since 1966, but its content will now be transferred to the online platform, yell.com, which went live in 1996. The article evokes a certain nostalgia for the old days by reproducing a still from the 1980s advertising campaign, in which an aging author by the name of J. R. Hartley used the Yellow Pages to locate a copy of his own book on fly-fishing.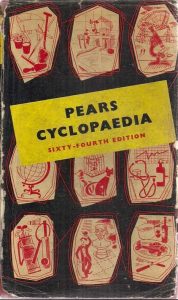 To the right, 'Cyclopaedia succumbs to digital era'. The Pears' Cyclopaedia, "A Mass of Curious and Useful Information about Things that everyone Ought to know in Commerce, History, Science, Religion, Literature and other topics of Ordinary Conversation", is being discontinued. The decision by the publishers, Penguin, is partly down to the retirement of its editor, Dr Chris Cook, but it tells of a slump in the market for reference books; Pears' sold 25,000 copies in 2001-2 but only 3,000 last year. Perhaps this is a sign of liberation from somewhat oppressive strictures—we no longer think that there are things that 'everyone Ought to know'—but more likely it tells of the speed with which we have delegated information to the Internet. The human brain declines to waste its energy remembering facts that are easily found online.
The juxtaposition of the two articles made me feel a little melancholy, in part because they seemed to presage the demise of the very object that was relaying them to me. The Guardian is getting thinner and more expensive with every passing year; it is about to move from its rather elegant 'Berliner' format to a tabloid format, and this may prove to be just another staging-post on the route to its physical disappearance. Perhaps it doesn't really matter. But my inner J.R. Hartley is a little sad to say goodbye to the bad old days when there were limits on what you could know, which created the hunger to get round them.