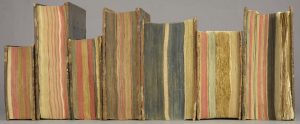 I zoomed up to the Faculty of English at Oxford the other day, to take part in a research day focused on the seventeenth-century medic Nicholas Crouch. Crouch was born in 1634 and died in 1690, having spent fifty-six years as a student and fellow at Balliol, where he built up an impressive personal library that he left to the college. A team of expert conservators has spent a year repairing 133 books from his collection, many of them Sammelbände (volumes comprising many smaller books or pamphlets). The research day aimed to bring scholars together to start thinking about the potential of the collection.
While the speakers were agreed on the value of the collection, several of the contributions delved into Crouch's manuscripts and raised questions about his status and the seriousness of his many and varied intellectual pursuits. Adam Smyth commented on his diary and the associated collection of almanacs, drawing some telling clues out of what have often been seen as unyielding documents. Olivia Smith looked at the marginalia in his copies of the Royal Society's Philosophical Transactions, and speculated that Crouch was constantly engaged in small-scale scientific work in his college, in manuscripts as seemingly mundane as one in which he notes the capacity of the fellows' drinking-vessels. John-Paul Ghobrial voiced his suspicion that Crouch was not really plugged in to the global renaissance, noting the absence of international newsbooks from his collections, and Benjamin Wardhaugh and Kathleen Walker-Meikle worried at the limits of Crouch's dabblings in mathematics and pharmacology. Will Poole kicked off his paper with the suggestion that Crouch might be the archetype of the second-rate academic sucked into a lifetime of University administration. (That really put the 'ouch' back into 'Crouch').
But as Poole pointed out, regardless of the fact that Crouch himself may not have been an intellectual pioneer, his books remain richly interesting. The register of his bookbuying and lending can tell us much about the  intellectual circles of Restoration Oxford, and his collections of ephemera raise questions about changing attitudes to books in the period. And thanks to his decision to note the binders of many of his volumes, it is now possible to tie tiny physical details (such as the blind-tooled fleurons stamped in the corners of the binding) to particular Oxford binderies, as Nikki Tomkins of the Oxford Conservation Consortium showed. A lot of books scattered across the University and beyond will need to be reconsidered in the light of such discoveries.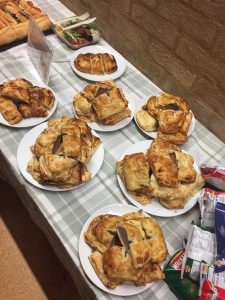 The organisers provided thought-for-food as well as food-for-thought; the event was fuelled by venison pasties and custard tarts from seventeenth-century recipes. The Balliol librarians have put together an exhibition and a colourful catalogue to celebrate their project; the latter can be downloaded as a pdf.