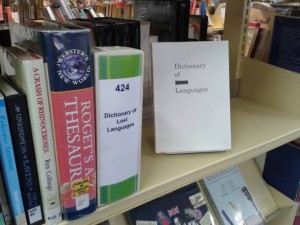 Sarah Wood is at the Judith E Wilson Drama Studio on 25 April to introduce a series of films about lost languages.
Sarah Wood works with the found object, particularly the still and moving image, as an act of reclamation and re-interrogation. She works mainly with the documentary image to interrogate the relationship between the narrating of history and individual memory. Recently she has been focussing on the meaning of the archive, in particular the politics of memory, asking not only why some objects are preserved while others are ignored but also why preservation is made at certain historical moments.
Consult Sarah Wood's 'Dictionary of Lost Languages' in the Faculty Library.