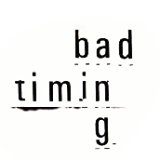 Bad Timing and The Alchemical Landscape present 'The Other Side: An Audiophonic Séance' at 7.30pm on Thursday 12 May in the Judith E. Wilson Drama Studio, Faculty of English, University of Cambridge.
Leading Cambridge promoter of experimental music, Bad Timing, and members of the ongoing Alchemical Landscape research project invite you to an evening of dead formats, traces, sites and spectres from the underground.
Featuring Howlround, English Heretic's new Documents project, Evie Salmon & James Riley performing 'Dust' and bad timing djs.
The event is free but places are limited. Please reserve your place via eventbrite: https://www.eventbrite.co.uk/e/the-other-side-an-audiophonic-seance-tickets-24826139652
For more information please see the Bad Timing website: http://bad-timing.co.uk/