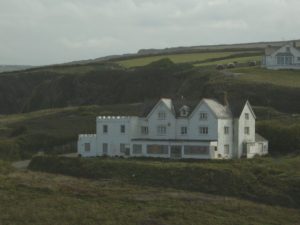 Headlands – A New Exhibition on the First Floor
In 2015 Yvonne Salmon and James Riley travelled through North Cornwall. They went in search of evidence pertaining to two fictional and folkloric events: the filming of the sci-fi drama *The Nightmare Man* (1981) in Port Isaac and the 1645 'abduction' of Ann Jefferies from the nearby hamlet of St. Teath.
A series of material and symbolic factors connect these two episodes. They also lie at the intersection of place, culture and myth that characterises Cornwall's particular psychic territory.
Influenced by Patrick Keiller and the Robinson Institute, Headlands presents a series of texts, images and magical objects. Drawing on Yvonne Salmon's work as an artist and James Riley's experience with private archives, it is intended as an essay by way of artefacts, a dispatch from the zone.
You can see this exhibition on the first floor landing of the English Faculty building from 23rd June to 11th July 2016.
Yvonne Salmon and James Riley will be on the first floor landing at 1pm on Thursday 30th June. They will be happy to talk through the exhibition with any interested parties.
Headlands is presented as an output of the ongoing research project The Alchemical Landscape. It has been timed to coincide with 'The Alchemical Landscape II: Screen Media, Occulture and the Geographic Turn', a one day symposium at Girton College, Cambridge on 7th July. An event linked to the Headlands exhibition will be presented as part of the 2016 Festival of Ideas.
The Alchemical Landscape Project has been awarded CRASSH research group status and will run a seminar series during the academic year 2016-2017.
For more information see:
www.thealchemicallandscape.blogspot.co.uk