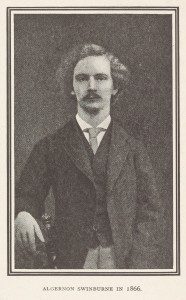 Laura Kilbride, Orla Polten and Alex Wong organise an international conference to celebrate the 150th anniversary of the publication of Algernon Charles Swinburne's seminal collection, the Poems and Ballads of 1866.  The  conference takes place at St John's College, Cambridge, 29-30 July 2016.
By focusing on Swinburne's most notorious work, the aim of the conference is to foster new ways of thinking about the significance of this collection to the development of English poetry during a period of staggering formal experimentation.
The conference seeks to address questions of form, style, genre and technique, which continue to provoke and inspire readers, scholars and poets.