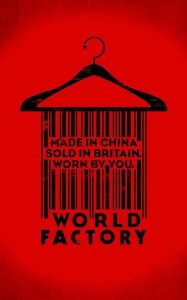 Following a sold out and extended run at the Young Vic in 2015, World Factory shines a light on 'Made in China' as part of the Cambridge Festival of Ideas. World Factory is at Cambridge Junction from 18-21 October and then moves to Brighton and Manchester.
Considering that adults make approximately 35,000 decisions per day, World Factory focuses on concrete, real-time decisions based on real-world stories. Through a scenario based card-game; audience members become factory managers of a Chinese clothing factory, where they must reckon with what success looks like, while considering profits, products and workers.
"World Factory pulls the curtains back on how small decisions contribute to a much bigger picture of exploitation. This isn't a show about where you buy your clothes, but rather about the global system in which we all live," said World Factory cocreator, Zoë Svendsen.
World Factory interweaves real-life accounts of mass production both here and abroad with a moving score, video and live performance. Whilst interactive, World Factory has been consciously created as a show for everyone; which means that while 'factories' have to make collective decisions, the level of audience participation is at one's own discretion.
Dr Zoë Svendsen of the Faculty of English is the Artistic Director of METIS Arts,  a Cambridge-based performing arts company/network that creates interdisciplinary performance projects created through rigorous research.
Tickets: http://www.junction.co.uk/worldfactory#
tickets
Box Office: 01223 511 511
For images, interviews and further information, please contact Natalie Reiss:
natalie.d.reiss@gmail.com