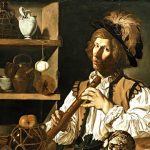 On 13 October 2016, New Generation Thinker Dr Joe Moshenska  appears on Radio 3 Free Thinking to review 'Beyond Caravaggio', the new exhibition on Caravaggio's influence.
'Beyond Caravaggio' runs at The National Gallery, 12 October 2016 To 15 January 2017.
The New Generation Thinkers scheme is run by BBC Radio 3 and the Arts and Humanities Research Council to find academics who can turn their research into radio.