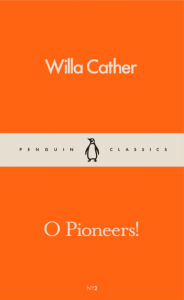 Dr Kasia Boddy is one of the panel discussing Willa Cather's novel O Pioneers! for Penguin Book's seasonal Book Club in collaboration with The Happy Reader. The discussion takes place on Tuesday 15 November, 18.30-20.30 at Joseph, 236 Westbourne Grove, London W11 2RH.
http://www.joseph-fashion.com/en/ecomru/le-blog/joseph-x-the-happy-reader/page/thehappyreader3
The Happy Reader – published by Penguin Books and Fantastic Man – is a book club in magazine format. The quarterly title unpicks a central novel through witty editorial content; excerpts, observations and extrapolations reveal the chosen book. Issue 8 of the magazine centres round O Pioneers!