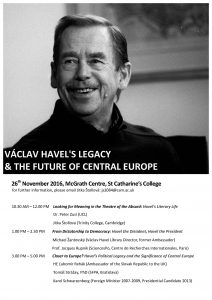 Registration is now open for a symposium 'Václav Havel's Legacy and the Future of Central Europe', held on 26 November at McGrath Centre, 10am-6pm, St Catharine's College, Cambridge. The symposium is free and includes lunch and a wine reception.
Commemorating what would have been Václav Havel's 80th birthday, this international symposium offers a platform for an interdisciplinary discussion about Havel's literary and political work, his legacy, and the current development of Central-European democracies.
The morning session (10.30-12.00) in particular may be of interest to anyone working on the Theatre of the Absurd, as well as on the modern reception of Shakespeare. Peter Zusi (UCL) will situate Havel's drama within the tradition of the Theatre of the Absurd, and Jitka Štollová (Cambridge) will talk about King Lear as a major source of inspiration for Havel's last play, Leaving (2007).
Symposium annotation: "In the post-totalitarian system, therefore, living within the truth has more than a mere existential dimension (returning humanity to its inherent nature), or a noetic dimension (revealing reality as it is), or a moral dimension (setting an example for others). It also has an unambiguous political dimension. If the main pillar of the system is living a lie, then it is not surprising that the fundamental threat to it is living the truth. This is why it must be suppressed more severely than anything else." -Václav Havel
In his famous essay, The Power of the Powerless (1978), Václav Havel proposed 'the life in truth' as an antidote to the falsehood and fallacious complacency and inertia of the Communist regime. Forty years later, amid turbulent political changes in the Euro-American society and the populist campaigns that accompanied them, the Oxford English Dictionary declared 'post-truth' as Word of the Year for 2016. What is the arc spanning from truth to post-truth, and what does this development reveal about the post-Havel world?
The symposium brings together distinguished political figures, literary scholars, and political theorists to discuss Václav Havel's literary and political work, his legacy, and what the post-truth era in global politics means for contemporary Czech Republic and Slovakia.
Registration: https://goo.gl/forms/Ywbgfw7QblR8nQa03
For more information, please email Jitka Štollová: js2084@cam.ac.uk.
Programme:
10.00 – 10.30: Registration
10.30 – 12.00: Looking for Meaning in the Theatre of the Absurd: Havel's Literary Life, Dr Peter Zusi (UCL), Jitka Štollová (Trinity College, Cambridge)
12.00 – 13.00: Lunch break (buffet in the foyer) & movie screening
13.00 – 14.30: From Dictatorship to Democracy: Havel the Dissident, Havel the President, Michael Žantovský (Václav Havel Library Executive Director, former Czech Ambassador to the UK), Professor Jacques Rupnik (SciencesPo, Paris)
14.30 – 15.00: Coffee break
15.00 – 17.00: Closer to Europe? Havel's Political Legacy and the Significance of Central Europe,  HE Ľubomír Rehák (Slovak Ambassador to the UK), Tomáš Strážay, PhD (SFPA, Bratislava), Karel Schwarzenberg (Foreign Minister 2007-2009, CR Presidential candidate 2013)
17.00 – 18.00: Wine reception