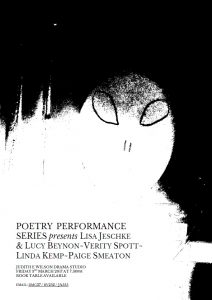 POETRY PERFORMANCE SERIES #3: JESCHKE/BEYNON ~ SPOTT ~ KEMP ~ SMEATON
Drama Studio, Faculty of English, 3 March 2017
Book table
LISA JESCHKE & LUCY BEYNON
Have made theatre together since 2007, in Cambridge, London, Berlin, etc. Some of it has been published, including David Cameron (Shit Valley Press, 2015).
VERITY SPOTT
Is a poet and musician based in Brighton, and the author of Trans* Manifestos (Shit Valley, 2016), Gideon (Barque Press, 2014), Balconette (Veer Books, 2014), Dear Nothing and No One In It and Effort to No (Iodine, 2013). She runs Iodine press and Horseplay. Click Away Close Door Say has just been published by Contraband Books, and another book of lyric poems, written with Tim Thornton, is due from Face Press. Verity is also editing the poetry of Arlen Riley Wilson.
LINDA KEMP
Is a poet and musician based in Sheffield. Her book Lease Prise Redux was published by Materials last year. She is the founder of the DIY publishing press and record label enjoy your homes press.
PAIGE SMEATON
Is a poet based in Cambridge. She has worked with the poet Vahni Capildeo on Perfomance Art Events 'The Bacchae', 'Maenads of Necessity' and 'Azure Noise'. Work appears in Botch magazine.
Email Rosa Van Hensbergen, Janani Ambikapathy, David Grundy (rv252@cam.ac.uk, ja555@cam.ac.uk, dmg37@cam.ac.uk