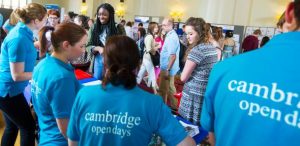 The University of Cambridge and its Colleges will be opening their doors for the Cambridge Open Days on Thursday 6 July and Friday 7 July 2017.
These large-scale events are for Year 12 students (or equivalent) and mature students (aged 21 or over) who are considering making an application in October 2017 for entry in October 2018 (or deferred entry in October 2019).
Attendees will be able to find out what the University and Colleges have to offer through presentations on courses, the application process, student life, and finance. They'll also have the opportunity to talk to undergraduate students and staff from the Colleges and academic departments.
Further information can be found here http://www.undergraduate.study.cam.ac.uk/events/cambridge-open-days