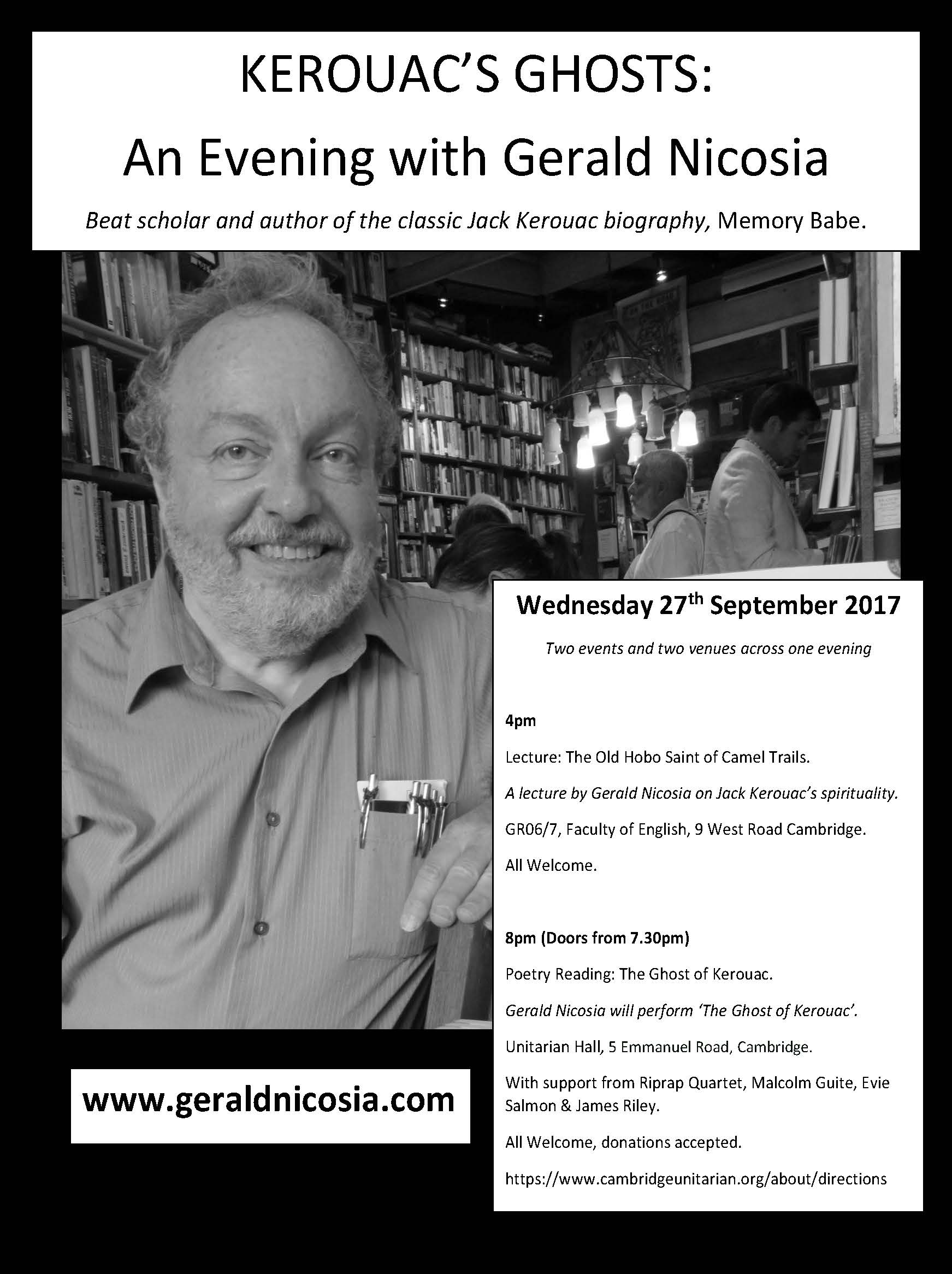 Wednesday 27th September, 4pm Faculty of English; 8pm Cambridge Unitarian Hall.
Two events, two venues across one evening.
Join Gerald Nicosia author, poet, biographer and acclaimed Beat scholar for
a specially curated evening consisting of a lecture presentation and a live
poetry reading.
Gerald Nicosia is the author of Memory Babe, the classic biography of
Jack Kerouac. He is a reviewer, literary critic, interviewer and
accomplished poet. He has represented and edited the writings of Jan
Kerouac and Home to War, his history of the Vietnam Veterans Movement was
picked as one of the "best books" of 2001 by the Los Angeles Times, and
was nominated for best non-fiction of 2001 by the Bay Area Book Reviewers
Association.
http://geraldnicosia.com/
Presented and curated by Malcolm Guite and James Riley.
*
4pm
Lecture: The Old Hobo Saint of Camel Trails.
A lecture by Gerald Nicosia on Jack Kerouac's spirituality.
"Kerouac was called a Catholic, a Buddhist, an existentialist, and other
things like "beatnik," and I examine each of those categories in turn and
determine that he really fits in to none of them. My conclusion is that
JK's spirituality was a different creature entirely, a very unique
spirituality that was founded in his early life experiences"
GR06/7, Faculty of English, 9 West Road Cambridge. All Welcome.
————————
8pm (Doors from 7.30pm)
Poetry Reading: The Ghost of Kerouac.
Gerald Nicosia will perform his new poem 'The Ghost of Kerouac'.
With support from Riprap Quartet, Malcolm Guite and Evie Salmon & James
Riley
Riprap are Kevin Flanagan (saxophones), Dave Gordon (piano), Andrew Brown
(bass) and Russ Morgan (drums/percussion). They take their inspiration from
the Beat Poets, with their freewheeling lateral association, Miles Davis
and his open-ended forms (which always had a solid street-informed rhythmic
drive), and Kerouac's idea of a 'Holy Goof' (spiritual trickster).
http://www.kevinflanagan.net/riprap-quartet/
Malcolm Guite is an English poet, singer-songwriter, Anglican priest, and
academic. Guite is the author of five books of poetry, including two
chapbooks and three full-length collections, as well as several books on
Christian faith and theology. Guite performs as a singer and guitarist
fronting the Cambridgeshire-based blues, rhythm and blues, and rock band
Mystery Train. https://malcolmguite.wordpress.com/
Evie Salmon and James Riley work across multiple faculties at the
University of Cambridge. They co-direct The Alchemical Landscape, an
ongoing research and public engagement project looking at occulture and
geography. During the Gerald Nicosia evening they will present 'Dust': a
speculative investigation into the afterlife of two lost recordings by Jack
Kerouac and William Burroughs. Spoken word, archival murmurings and dead
formats.
http://residual-noise.blogspot.co.uk/
http://thealchemicallandscape.blogspot.co.uk/
Unitarian Hall, 5 Emmanuel Road, Cambridge.
https://www.cambridgeunitarian.org/about/directions
All Welcome, donations accepted.