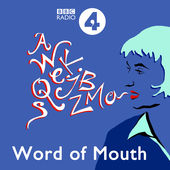 Throughout September and October 2017, Dr Laura Wright co-hosts BBC Radio 4's Word of Mouth, a series which explores the world of words and the ways in which we use them.
Monday 30 October – Pub Names
From The Red Lion to the Bucket of Blood, how did your local get its name?  Michael Rosen asks Word of Mouth's resident linguist, Dr Laura Wright, about her research into pub names.
http://www.bbc.co.uk/programmes/b099yh88
Monday 23 October – Language and Our Genes with Dr Steve Jones
Michael Rosen and Dr Laura Wright talk to geneticist Steve Jones about how language is used to talk about genetics, and how genetics influences language.
http://www.bbc.co.uk/programmes/b098jjr4
Monday 16 October – Wild Words
The writer Robert Macfarlane (author of Landmarks, The Old Ways, The Wild Places and Mountains of the Mind) believes that the language we use to talk about nature is itself at risk of becoming an endangered species. A 2016 research paper by Cambridge University conservationists found that 8- to 11-year-old schoolchildren were 'substantially better' at identifying common Pokémon characters than common species of British wildlife.
Over the past 10 years, Robert Macfarlane has been gathering a 'word-hoard' of thousands of terms for nature, landscape and weather, in the hope of preserving, enriching and diversifying our language for the living world. He shares some of his favourites with Michael Rosen and Dr Laura Wright and talks about why it is so important to celebrate the language we use to talk about the natural world.
http://www.bbc.co.uk/programmes/b09794s4
Monday 2 October – Are we all speaking football?
Lifelong Arsenal supporter, Michael Rosen, and football-uninterested Dr Laura Wright talk to Adam Hurrey about the language, and in particular, the clichés of football. Football is a linguistic microclimate, with coinages shooting into everyday speech: back of the net!
http://www.bbc.co.uk/programmes/b095rrzx
Monday 18 September – Eat My Words: How to Describe Food Flavours
Michael Rosen and Laura Wright ask Great British Menu judge, Andi Oliver, and author of The Flavour Thesaurus, Niki Segnit, how they describe the flavours of food.
http://www.bbc.co.uk/programmes/b0938p81