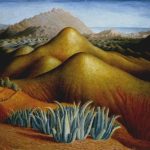 Claudia Tobin has contributed to the exhibition 'Virginia Woolf: An Exhibition Inspired by her Writings', which has recently opened at Tate St Ives.
The exhibition is led by Woolf's writing, which will act as a prism through which to explore feminist perspectives on landscape, domesticity and identity in modern and contemporary art – with works by over 80 artists, including Laura Knight, Gwen John, Vanessa Bell, Winifred Nicholson, Sandra Blow, Barbara Hepworth, Claude Cahun and Dora Carrington.
The exhibition tours to Pallant House, Chichester, 26 May – 16 September and The Fitzwilliam Museum, Cambridge, 2 October – 9 December 2018.
Claudia will be speaking at a conference discussing the themes of the exhibition, 2-4 March 2018.
http://www.tate.org.uk/whats-on/tate-st-ives/exhibition/virginia-woolf/virginia-woolf-art-and-ideas