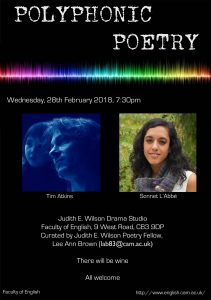 Newest Sonnet Makers!
Come hear Tim Atkins and Sonnet L'Abbé perform on Wednesday 28 February
NEW VENUE: McCrum Theatre, Corpus Christi College (next to The Eagle Tavern)
Doors 7.30pm, Reading 8pm
Tim Atkins: Some Books: 25 Sonnets (The Figures), Horace (O Books), Koto Y Yo, and Petrarch Collected Atkins (Crater Press), 1000 Sonnets (ifpthenq) and On Fathers < On Daughtyrs (Boiler House). Petrarch Collected Atkins was a Salon.com & TLS book of the year for 2014. Some things: editor ofonedit.net since 2000AD, member of the summer faculty at the Jack Kerouac School of Disembodied Poetics (2013), and father of Koto & Yuki.
Sonnet L'Abbé, Ph.D. is the author of A Strange Relief and Killarnoe, and was the 2014 guest editor of Best Canadian Poetry. Her chapbook, Anima Canadensis, was published by Junction Books in 2016, and won the 2017 bpNichol Chapbook Award. In her next collection, Sonnet's Shakespeare, L'Abbé "writes over" all 154 of Shakespeare's sonnets. L'Abbé is a professor of Creative Writing and English at Vancouver Island University.
Curated by Lee Ann Brown, thanks to the Judith E. Wilson Fund for Poetry and Drama, Cambridge University. LAB83@cam.ac.uk
rsvp https://www.facebook.com/events/1948204988827815/