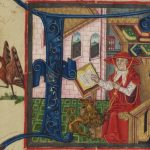 'Attention and Distraction': Cambridge University's annual student-organised graduate conference on literature before 1750
Friday, 20 April (13:00-19:00), at CU Faculty of English (GR 06/07).
For pre-modern readers, what did it mean to 'attend' (or fail to attend) to a text? What is the role of boredom and distraction in the reading process? How do we attend to pre-modern literature in our moment of supposedly short attention spans?
Our conference theme, 'Attention and Distraction', draws on recent work in the history of reading and cognition to ask what it means to 'attend' to a text, from the medieval period to the dawn of the Enlightenment. Panels will be interdisciplinary, bringing together scholars across fields to discuss topics including (but not limited to) the attention economy, readerly distraction and boredom, prayer and concentration, popular entertainment, and 'information overload', before and after the advent of print.
Further details, schedules, and announcements can be found on our website: http://pre1750.wordpress.com.
Start the conversation: #distractedatcambridge2018