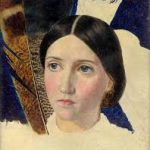 CHRISTINA ROSSETTI READING: MONDAY 30th APRIL, 9pm, ST JOHN'S COLLEGE CHAPEL
To mark her commemoration in the Calendar of the Church of England (though a few days after the date of the commemoration itself), a reading of poems by Christina Rossetti will be held at St John's College Chapel.
The readings will begin at 9pm and last for no more than 45-50 minutes. They will be followed by light refreshments in the antechapel. All are very warmly welcome.
This event follows from last term's commemoration of George Herbert in the St John's College Chapel, and will in turn be followed by a reading from John Donne in May.