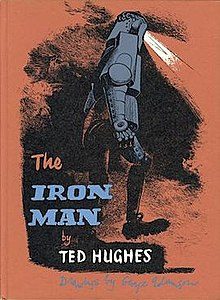 Ted Hughes and George Adamson
Ted Hughes was one of the great writers for children, and his first three children's books, Meet My Folks!, The Iron Man and How the Whale Became all benefited from a collaboration with the illustrator George Worsley Adamson (1913-2005). Thanks to the generosity of his son John, Pembroke's collection includes the original artwork for all three books and associated correspondence.  Some of these images have been added to the current Ted Hughes exhibition on the first floor of the English Faculty.
Adamson was born in the Bronx, New York. He received his art training in England, at the Mining and Technical College, Wigan, and afterwards specialized in aquatint, etching and drypoint at Liverpool College in Art. After wartime service for the RAF, for whom he served as an official war artist, Adamson lectured in engraving and illustration at Exeter College of Art. As a full-time illustrator and cartoonist he illustrated well over 80 books. For more details of his career see www.GeorgeWadamson.com
Adamson and his family lived in Exeter, but his illustrations for Hughes's first children's book, Meet My Folks!, have an American feel. This was because Hughes's manuscript, which Faber sent to Adamson in 1960, bore a Massachusetts address; the poems were written during Hughes and Plath's years in America. In a letter in Pembroke's collection, Hughes wrote to Adamson in 1962: "We were pleased beyond our dreams at your illustrations of Meet My Folks – they were absolutely right."
Adamson's illustrations for the most famous of Hughes's works for children, The Iron Man (1968), draw on the landscape and architecture of Devon.  The Iron Man himself is based on an artist's articulated model still in the family's possession.
A catalogue of Pembroke's Hughes-Adamson material is available on request from the College Librarian Pat Aske, at pat.aske@pem.cam.ac.uk