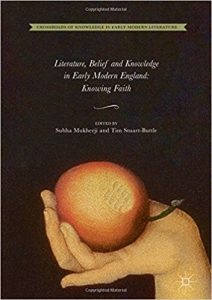 Our book series with Palgrave Macmillan, Crossroads of Knowledge in Early Modern Literature (general editors: Holmes, R. E., Mukherji, S., Stuart-Buttle, T., Swann, E. L., Tomlin, R.), has now launched with the e-book publication of the first volume in the series on 21 May 2018.
Crossroads of Knowledge in Early Modern Literature rewrites the story of early modern epistemology by examining the intervention of the 'literary' in a wider conversation about the process, ethics and psychology of knowing, more obviously ongoing across Theology, Natural Philosophy, Economics and Law. Each volume focuses on a particular interdisciplinary threshold, with literature as a running thread, reading these cognate fields as coeval but distinct, and charting certain elusive and ordinarily unassimilable aspects of the experience and texture of knowing by using a unique interdisciplinary route.
The primary aim of the first volume, Literature, Belief and Knowledge in Early Modern England: Knowing Faith (edited by Subha Mukherji and Tim Stuart-Buttle), is to uncover the intervention of literary texts and approaches in a wider conversation about religious knowledge: why we need it, how to get there, where to stop, and how to recognise it once it has been attained. Its relative freedom from specialised disciplinary investments allows a literary lens to bring into focus the relatively elusive strands of thinking about belief, knowledge and salvation, probing the particulars of affect implicit in the generalities of doctrine. The essays in this volume collectively probe the dynamic between literary form, religious faith and the process, psychology and ethics of knowing in early modern England. Addressing both the poetics of theological texts and literary treatments of theological matter, they stretch from the Reformation to the early Enlightenment, and  cover a variety of themes ranging across religious hermeneutics, rhetoric and controversy, the role of the senses, and the entanglement of justice, ethics and practical theology.
Contributors to the volume are: Subha Mukherji (University of Cambridge), Brian Cummings (University of York), Torrance Kirby (McGill University), Jane Partner (Trinity Hall, University of Cambridge), Debora K. Shuger (UCLA), Giles Waller (University of Cambridge), Ross Lerner (Occidental College), Sophie Read (University of Cambridge), Elizabeth L. Swann (University of Cambridge), Regina M. Schwartz (Northwestern University), Ethan Shagan (UC Berkeley), Tim Stuart-Buttle (University of York), and Rowan Williams (University of Cambridge).
The book should appeal to scholars of early modern literature and culture, theologians and historians of religion, and general readers with a broad interest in Renaissance cultures of knowing.
Knowing Faith is expected to be available in print on 21 June 2018. More information about this publication is available here: https://www.palgrave.com/gb/book/9783319713588
This publication is part of the research project Crossroads of Knowledge in Early Modern England: the Place of Literature, a five-year project funded by the European Research Council, based at the Faculty of English and CRASSH, University of Cambridge.