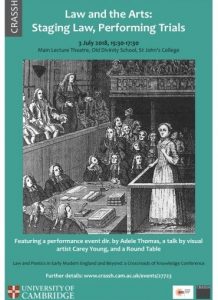 Law and the Arts: Staging Law, Performing Trials
3 July 2018
Old Divinity School, St John's College, University of Cambridge
A three-part public event embedded in the conference, Law and Poetics in Early Modern England and Beyond (2-4 July, 2018).
This event, involving actors, visual artists and legal professionals, comprises:
a professional performance event directed by Adele Thomas and Caroline Williams. Their previous credits include: Shakespeare's Globe/Sam Wanamaker Theatre, The Oresteia (2015) and The Knight of the Burning Pestle (2014)
a talk and screening by visual artist Carey Young (The Slade School of Fine Art, University College, London); creator of law-based artistic works including Before the Law, Legal Fictions, and Palais du Justice
a widely interdisciplinary, inter-professional Round Table on Law and the Arts featuring: Farah Karim-Cooper (Shakespeare's Globe), Subha Mukherji (University of Cambridge), Nicola Padfield, QC (Fitzwilliam College, Cambridge), Richard K. Sherwin (New York Law School), and Adele Thomas (Freelance Director).
More details about this event are available here: http://www.crassh.cam.ac.uk/events/27723.
This event is part of the research project Crossroads of Knowledge in Early Modern England: the Place of Literature, a five-year project funded by the European Research Council, based at the Faculty of English and CRASSH, University of Cambridge