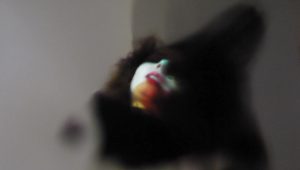 Dr Sophie Seita presents an installation and performance of Emilia Galotti's Colouring Book of Feelings. The project combines poetic dialogue, choreography, sculptural garments, text, projections, video, and audio recordings.
Funded by a Public Engagement Starter Grant and Cambridge Humanities Research Grant.
Details:
7 July 2018
Performance: 8pm
Installation: 6pm-midnight
Venue: Bargehouse, Oxo Tower Wharf, Floor 3, Room 12
Part of Art Night 2018
More about the performance on the Art Night event page.
Tickets here.
Art Night is London's largest free contemporary arts festival. Each year, Art Night invites a leading cultural institution to explore the history, culture and architecture of a different part of London, inspiring a series of new commissions, one off events and premieres by internationally renowned artists. Art Night 2018 is curated by Ralph Rugoff and the Hayward Gallery, and coincides with the institution's 50th Anniversary. For its third edition, Art Night moves south of the river, from Southbank Centre to Battersea Power Station through Vauxhall and Nine Elms on 7 July.