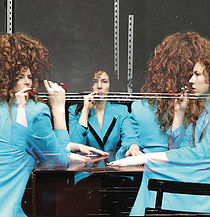 Dr Sophie Seita has been commissioned to make a new performance piece in response to a research project in Sociology and an exhibition at Murray Edwards on reproductive technologies and reproductive labour.
Her piece Transpositions will reflect on the concept and choreography of transposition, queer kinship, corn as a queer plant, ritual, the ritornello, and the cross-pollinating possibilities of flowery metaphors and of planting queer objects.
This performance is part of the Festival of Ideas and open to the public.