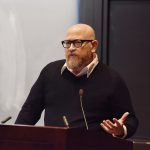 Professor Andrew Cole, Director of the Gauss Seminars in Criticism at Princeton, will give the Clark Lectures 2019 at Trinity. Here he is in conversation with Trinity Fellows, Dr Ross Wilson and Dr Phil Knox:
https://www.trin.cam.ac.uk/news/unmodernism-the-clark-lectures-2019/
UNMODERNISM  – THE CLARK LECTURES 2019 BY PROFESSOR ANDREW COLE, PRINCETON UNIVERSITY
1.Hegel in the Cathedral (28 January, lecture)
2.The Substance of Thought (30 January, seminar)
3.The Forms of Theory (4 February, seminar)
4.Marx after Feudalism (6 February)
All begin at 6 pm. 1  and 4 will take place in the Winstanley Lecture Theatre, Trinity College and last an hour. 2 and 3 will take place in the Junior Parlour, Trinity College and will be approximately 90 minutes long. They will take a more informal, seminar format, with advance reading material available. 2 will be especially concerned with Julian of Norwich's Shewings (as a microcosm of the problem of "literature and philosophy" or "literature as philosophy") and Hegel's Science of Logic; 3 will be concerned with Spinoza's Ethics, medieval encyclopaedic material and some recent writers, including Frederic Jameson.
Anyone who wishes to attend the seminars should sign up on Eventbrite, using the links below.  This will allow the organisers to plan numbers and distribute handouts in advance to those who are coming.
https://www.eventbrite.co.uk/e/andrew-cole-the-substance-of-thought-clark-lectures-2019-tickets-54981942470
https://www.eventbrite.co.uk/e/andrew-cole-the-forms-of-theory-clark-lectures-2019-tickets-54982068848