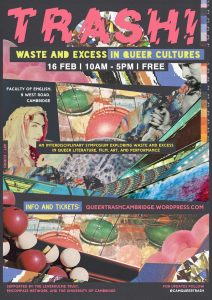 On Saturday 16 February the Faculty of English hosts 'TRASH! Waste and Excess in Queer Cultures', an interdisciplinary symposium exploring waste and excess in LGBTQ+ life and culture. Featuring contributions by leading scholars of literature, film, art history, and performance, it celebrates queer cultures' remarkable, inventive employment of waste and garbage as artistic materials and trash as a queer aesthetic. Participants include:
Dr Fiona Anderson (Art History, Newcastle)
Dr Benjamin Bateman (English, Edinburgh)
Dr Elena Gorfinkel (Film, KCL)
Dr Abeyamí Ortega (Media, Loughborough)
Dr Owen Parry (Performance, IASH, Edinburgh)
Dr Christopher Schmidt (English, CUNY)
Dr Karl Schoonover (Film, Warwick)
Dr Amy Tooth Murphy (Oral History, RHUL)
The symposium is organised by Dr Diarmuid Hester (Leverhulme Early Career Fellow) and supported by The Leverhulme Trust, Encompass Network, and the University of Cambridge's Faculty of English, LGBTQ+@Cam, and the Public Engagement Starter Fund. Part of LGBTQ+ History Month.
Tickets and Info: https://queertrashcambridge.wordpress.com
Follow @CamQueerTrash for updates