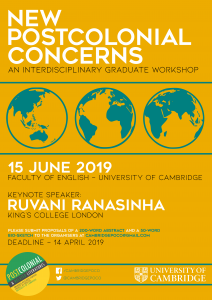 CALL FOR PAPERS:
New Postcolonial Concerns: An Interdisciplinary Graduate Workshop
15 June 2019 | Faculty of English, University of Cambridge
Keynote Speaker: Ruvani Ranasinha (KCL) 
Abstracts due: 14 April 2019
******
Our planet faces testing times. The challenges ahead increasingly converge: the destruction of our global environment and its uneven impact, the transnational ascension of the far-right, and the deterritorialised forms of power ushered in by an ever-watchful digital age, all confront us with a new sense of urgency.
Since its inception, the matrix of postcolonial thought has oriented itself toward critique and reform of the social and political landscape. The critical insights proffered by generations of postcolonial thinkers respond to—and at times anticipate—the intensifying and interconnected crises that face the Global South and North under capitalism's late-style. The field equips a new generation's thinking: in preparing for the forms of anti-racist activism demanded by cocooning governmental and non-governmental institutions; for the application of ecocriticism to the conservation of the world ocean; for the redistribution of the wealth of an international elite in a world of austerity. These challenges call for us to regroup and strategise, laying the groundwork for a holistic theory and practice in responding to these pressures.
New Postcolonial Concerns is an interdisciplinary graduate workshop, a forum drawing from historical work, literary studies, sociology and political thought, and activism. Our objective is to foster cross-disciplinary and cross-institutional dialogue among emerging scholars so as to elucidate contemporary concerns within postcolonial studies, and together arrive at tools and methodologies that can effectively respond to them.
We call for 20-minute papers and presentations that articulate concerns, chronicle effective responses, and/or foster links between academic practice and such concerns. Papers and presentations could focus on:
Marxism, capitalism, and uneven development

Decolonisation (/of the university /of museums, heritage, and public spaces)

Migration and refuge

Materialism/New Materialism

New ethno/nationalisms

Neocolonial and "Global South" relations

Feminist and intersectional perspectives

Queer perspectives

Film and visual cultures

Language and translation

Eco-criticism/environmental activism

Anti-racist activism and critical race studies

Digital humanities/surveillance
Proposals of 200 words and a 50-word bio-sketch should be sent to the organisers at cambridgepoco@gmail.com by 14 April 2019.