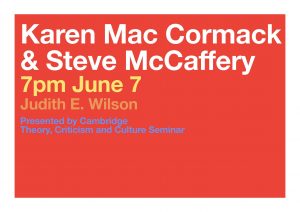 Steve McCaffery and Karen Mac Cormack (State University of New York at Buffalo)
Poetry Reading
Friday 7 June
7 pm, Judith E. Wilson Studio
The Cambridge Theory, Criticism, and Culture Seminar presents a rare opportunity to hear from two leading contemporary avant-garde poets, Steve McCaffery and Karen Mac Cormack.
STEVE McCAFFERY has been twice nominated for Canada's Governor General's Award and is twice recipient of the American Gertrude Stein Prize for Innovative Writing. He is the author of over 40 books and chapbooks of poetry and criticism and his work has been translated into more than a dozen languages. An ample selection of his poetic explorations in numerous forms can be savoured in the two volumes of Seven Pages Missing (Coach House Press). As well as Panopticon, Tatterdemalion (Veer Books), Alice in Plunderland (Book Thug), Revanches (Xexoxial), and Parsival (Roof). His book-object-concept A Little Manual of Treason was commissioned for the 2011 Shajah Biennale in the United Arab Emirates. A founding member of the sound poetry ensemble Four Horsemen, TRG (Toronto Research Group) and the College of Canadian 'Pataphysics and long-time resident of Toronto he is now David Gray Professor of Poetry and Letters at the University at Buffalo. Born in the first month of 1947 in Jessop's Hospital Sheffield, he is listed, along with John Ruskin, Margaret Drabble, Eric Clapton and Patrick MacNee, as one of the top 100 people who were born or lived in that revered city. Tonight Steve will sample from his latest chapbook Certain Words published by above/ground press.
Karen Mac Cormack is the author of more than a dozen books of poetry, most recently RECHELESSE PRATTICQUE (Chax Press, Tucson/Victoria, 2018). Other titles include AGAINST WHITE (Veer Books, London, 2013), TALE LIGHT: New & Selected Poems 1984–2009 (BookThug, Toronto, 2010) and Implexures (Chax Press, Tucson/West House Books, Sheffield, 2008). Her poems have appeared in a number of anthologies including Moving Borders, Out of Everywhere, Another Language, and Prismatic Publics, and her work has been translated into French, Portuguese, Swedish and Norwegian. An extended interview with her appears in Scott Thurston's Talking Poetics (Shearsman, 2011). Of dual UK/Canadian citizenship she currently lives in the USA and teaches at the State University of New York at Buffalo.