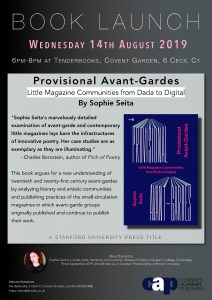 Literary Magazines and Communities: From the Anti-Colonial to the Avant-Garde
A conversation between Hana Morgenstern and Sophie Seita to celebrate the launch of Sophie Seita's Provisional Avant-Gardes: Little Magazine Communities from Dada to Digital (Stanford University Press, 2019).
Followed by a drinks reception.
Sophie Seita is an artist and academic whose practice spans text- and archive-based work, translation, performance, lecture-performance, video, and queer-feminist collaboration. Most recently, she's the author of My Little Enlightenment: A Lecture Performance (Other Forms, 2019); the editor of The Blind Man (Ugly Duckling Presse, 2017), named one of the Best Art Books of 2017 by The New York Times; and the translator of Subsisters (Belladonna*, 2017) by Uljana Wolf, whose selected essays she is also currently translating. She has performed nationally and internationally and earlier this year had a solo exhibition at [ SPACE ] in Hackney. Between 2016 and 2019 she taught at the University of Cambridge and from September will take up an Assistant Professorship at Boston University.
Dr Hana Morgenstern is a scholar, writer and translator. She is University Lecturer in Postcolonial and Middle East Literature at Cambridge University and a Senior Fellow at Newnham College. Dr Morgenstern is co-director of the Documents of the Arab Left Project. She is currently at work on a book manuscript titled, A Literature for All Its Citizens: Anti-Colonial Aesthetics in Palestine/Israel.