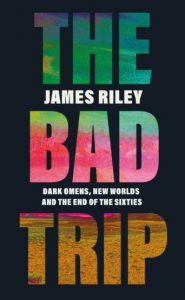 'Dense with conspiracies, chaos and apocalyptic death drives, The Bad Trip is a history that makes perfect sense when the sky is falling down.' The Sunday Times
'A meticulously researched look at how the hippies' rejection of rules opened the doors to drug abuse, occultism and some very dark deeds.' Mark Radcliffe
'The Bad Trip is a good trip: an essay on the power of art in dark times. In our own dark times, half a century later, that's something worth reading.' The Business Post
The Bad Trip: Dark Omens, New Worlds and the End of The Sixties is a cultural history of the late-1960s and early 1970s, that looks at the various ideas of catastrophe associated with 1969. Key points of focus include the Charles Manson murders and the Rolling Stones concert at the Altamont Speedway.
Published by Icon Books, The Bad Trip combines narrative with critical analysis, to tell the strange story of the 'end of the Sixties'. It also unpacks and interrogates this motif via a larger reading of the anxieties and tensions permeating the 1960s as a whole. As well as Manson, there's a large cast that includes Yoko Ono, Joan Didion, Peter Whitehead, Mia Farrow, Kenneth Anger and others.
Icon timed the book's release to coincide with the 50th anniversary of
1969. For more information see: https://iconbooks.com/ib-title/the-bad-trip/
Heffers will be hosting a special Cambridge launch for the book on November 6th. James will be discussing and reading from the book, there'll be a Q+A as well as a signing session. Copies of the book will be on sale. For tickets, see:
https://www.eventbrite.co.uk/e/the-bad-trip-dark-omens-new-worlds-the-end-of-the-sixties-with-james-riley-tickets-68444089113
The book has received lots of media coverage (radio, television, online, national press). Details and further updates can be found via James' twitter account: @EndofSixties.