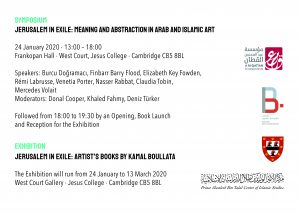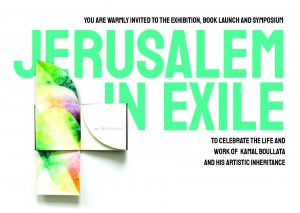 This exhibition celebrates the life and work of the Jerusalem-born artist Kamal Boullata (1942—2019), and is curated by Claudia Tobin and the artist's wife, Lily Farhoud. It centres on Boullata's handmade artist's books and silk screen prints, which explore the interplay between poetry and image, and convergences of colour and architecture. At the centre of the exhibition is The Granada Portfolio, a collaboration between Boullata and the poet Adonis, prompted by their response to Granada's architectural wonder, the Alhambra.
The exhibition opening on 24 January coincides with the symposium 'Meaning and abstraction in Arab and Islamic art' (Frankopan Hall 1pm-7.30 pm) and the launch of two volumes dedicated to Boullata's writings and essays about his art. An exhibition catalogue edited by Elizabeth Fowden will be available at the opening.
To attend the (free) symposium please register via EventBrite: https://www.eventbrite.co.uk/e/jerusalem-in-exile-celebrating-the-life-work-of-kamal-boullata-tickets-79733269355
Link to the Symposium Programme.