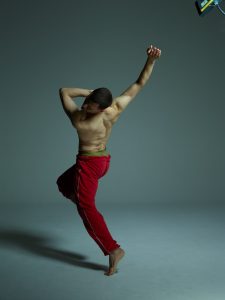 WRITING DANCE WORKSHOPS:
PRACTICE AS THEORY, THEORY AS PRACTICE
12 March 2020
Bringing together award-winning dancers, Clemmie Sveaas, Jonathan Goddard, Jasmine Chiu and CRASSH dance workshop collaborators, this practice-based workshop will explore how writing can be used to develop choreographic methods. As a group we will experiment by writing alongside dance, writing as dance stimuli and writing retrospectively about dance. What happens when we use scholarly forms of editing to revise movement patterns? We will also explore tasks that investigate what it means to choreograph collaboratively and to treat language as movement and movement as language.
 Schedule
The Queen's Building Lecture Theatre· Emmanuel College· Cambridge CB2 3AP
Workshop Session One: 11:00 – 1:00
Workshop Session Two: 2:00 – 5:00
Interested participants are encouraged to bring writing materials and any texts they would like to experiment with. They should also wear clothes they can move in.

Jonathan Goddard is a professional dance artist, movement director and choreographer who has worked for many major British dance companies including Rambert. He is a founder member of New Movement Collective, and has been a tutor at the Architectural Association in London. His most recent work includes The Mother a full evening duet with Natalia Osipova by the choreographer Arthur Pita, which premiered in Edinburgh (2018), was shown in Moscow (2019) and at the Southbank Centre London (2019) and Sochi, Russia (2020). Jonathan was nominated for Times/South Bank Show Breakthrough Award in 2007, Olivier Award for outstanding achievement in dance in 2008, Critics Circle National Dance Award for best male dancer 2011 and 2012. He has won the Critics Circle Award for best male dancer twice, in 2008 and 2014, also winning outstanding male performance (modern) in 2014 and 2019. His choreographer credits include While You Are Here with director Lily McLeish Company, Chameleon's Pictures We Make (Linbury Theatre).

Jasmine Chiu was born in Hong Kong, Jasmine began her training at the Richmond Academy of Dance in Vancouver, B.C. She has since moved through New York City to London working with the likes of Wayne McGregor, Elisa Monte, Chase Brock, the Cohan Collective, and visual artist Anthea Hamilton at Tate Britain. Jasmine recently played the role of 'Little Phoenix' in Dragon Spring Phoenix Rise at The Shed in New York; a martial arts spectacle co-conceived by Chen Shi-Zheng and the writers of Kung Fu Panda, with songs by Sia and choreography by Akram Khan. As a choreographer Jasmine explores the interplay of words, music, and movement; collaborating with artists of various mediums. She is a Hong Kong International Choreography Festival resident and holds a BFA Dance from The Boston Conservatory.

Clemmie Sveaas trained at the London Studio Centre. Her theatre and film credits include Othello (Shakespeare's Globe), Pinocchio (National Theatre), Macbeth (Young Vic), Medea (National Theatre), Mojo (Theatre Rites, Barbican), Cats (dir. Tom Hooper). She is an experienced dancer having appeared in many award-winning dance works including StepMother/StepFather (Arthur Pita), Les Enfants Terribles (Barbican/Royal Ballet), Witch Hunt (Bern Ballet), The Wind and the Willows (ROH and West End), Aida (Royal Opera House). Her Award nominations include an Olivier Award for Outstanding Achievement in Dance and Critics' Circle for Outstanding Female Performer.
http://www.crassh.cam.ac.uk/events/28682