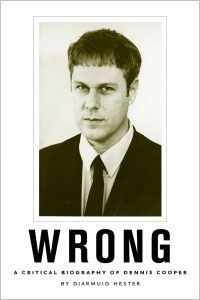 'WRONG: A Critical Biography of Dennis Cooper' by Dr Diarmuid Hester (Leverhulme Early Career Fellow in English) is now available from University of Iowa Press.
https://www.uipress.uiowa.edu/books/9781609386917/wrong
Description:
Working in a variety of forms and media since he first exploded onto the scene in the early 1970s, Dennis Cooper has been a punk poet, a queercore novelist, a transgressive blogger, an indie filmmaker – each successive incarnation more ingenious and surprising than the last. Using extensive archival research, close readings of texts, and new interviews with Cooper and his contemporaries, WRONG weaves a complex and often thrilling biographical narrative that attests to Cooper's status as a leading figure of the American post War avant-garde.
Advance praise:
'Hester unfurls a riveting chronicle of Dennis Cooper's intertwined life and work.' – Wayne Koestenbaum
'WRONG is a major achievement that satisfies in every respect.' – Kaplan Harris
Read about WRONG in the Irish Times:
'Dennis Cooper: The Last Literary Outlaw in Mainstream US Fiction'
https://www.irishtimes.com/culture/books/dennis-cooper-the-last-literary-outlaw-in-mainstream-us-fiction-1.4274856