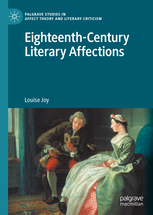 Louise Joy has published a new monograph called Eighteenth-Century Literary Affections.
https://www.palgrave.com/gb/book/9783030460075
The book assesses the mediating role played by 'affections' in eighteenth-century contestations about reason and passion, questioning their availability and desirability outside textual form. It examines the formulation and idealization of this affective category in works by Isaac Watts, Lord Shaftesbury, Mary Hays, William Godwin, Helen Maria Williams, and William Wordsworth.