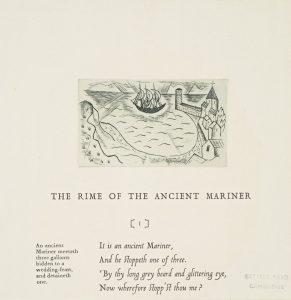 Digitizing David Jones' letters to Jim Ede at Kettle's Yard, Cambridge as part of the David Jones Digital Archive
In June 2021 a collaboration between the David Jones Research Center and the Faculty of English in the University of Cambridge, Cambridge University Library, Kettle's Yard Gallery and Cambridge Digital Humanities Learning Programme will begin work to digitize and create an open-access digital edition of the letters of the poet, artist and First World War veteran David Jones (1895-1974) to his patron Jim Ede, founder of the Kettle's Yard Museum. The project is being funded by the Cambridge Humanities Research Grant Scheme and the U.S.-based David Jones Research Center. Building on the growing interest in Jones as an undiscovered Modernist, and the increasing need for researchers to be digital-aware, we will open this project to the larger Cambridge University research community by hosting an intensive, catered, five-day workshop. Participants from across the Humanities can apply to gain expertise in encoding manuscript letters in the TEI (Text Encoding Initiative) in exchange for work on the mark-up of five pages of manuscript material (about one-to-two letters), which will be displayed in the open-access Cambridge Digital Library.
The friendship of the artist and writer David Jones and Harold Stanley ("Jim") Ede (1895–1990) is a unique example of the relationship between artist and patron in the Modernist period. In addition to financial support, Ede helped many artists elucidate the ideas underlying their work — an effort recorded in his extensive correspondence with and criticism of artists. However, the correspondence of Ede and Jones records a special affinity: both painters, Ede and Jones both served in the First World War, shared connections with Wales, and had a profound thirst to understand the role that art plays in spiritual life. In addition to featuring Jones' most candid discussions of his artistic philosophy and its underlying spiritual vision, the letters (spanning the years 1927-1971 and contained in their entirety in the archive at Kettle's Yard museum) are crucial to our understanding of Jones' place in the network of Modernist artists and writers. In addition, they offer unique insights in the place of artistic practice in response to trauma; nationalism between the wars; and the role of art to bring about fulfilment in a secular world.
If you are a Cambridge student or staff and would like to register your interest in our workshop, please contact Dr Laura McCormick Kilbride at lgmbk2@cam.ac.uk
https://www.davidjonesresearch.org/jonesede-correspondence-at-kettles-yard