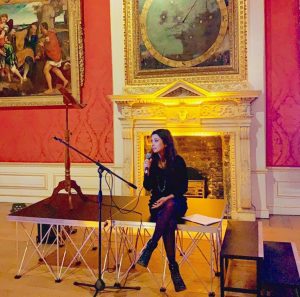 Sarah Jilani is a British-Turkish researcher and culture journalist who has studied films, fiction and art looking at subjectivity and decolonisation in post-independence (1950s-80s) Africa and South Asia. Her academic research has been published in peer-reviewed journals including Journal of Postcolonial Writing, Literature/Film Quarterly, Women: A Cultural Review and Life Writing, while her freelance writing on contemporary art, film and books can be found in The Times Literary Supplement, The Economist, The Guardian, ArtReview and Frieze Magazine, amongst others.
Every year, the Arts and Humanities Research Council (AHRC) and BBC Radio 3 hold a nationwide search for academics with game changing ideas that will resonate with a wide audience.  The successful ten were selected from hundreds of applications from researchers at the start of their careers. They have all demonstrated a passion for communicating their work and a skill for making complex areas of study engaging, accessible, and enlightening
Names of the 2021 New Generation Thinkers were announced as part of a special episode of Free Thinking on BBC Radio 3.  Featuring all ten researchers, the episode is now available to listen to on demand on BBC Sounds.
The New Generation Thinkers will have the opportunity to communicate their research by making programmes for BBC radio. They will also be provided with unique access to training and support from AHRC and the BBC. New Generation Thinkers alumni have gone on to become prominent public figures in their fields as well as the face of major documentaries, TV series, and regular figures in public debate.
Link to more information about Arts and Humanities Research Council New Generation Thinkers.