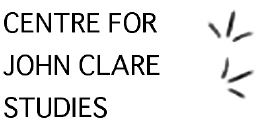 Please join us for the first spring meeting of the Centre for John Clare Studies Tuesday, 13th April, 1-2pm.
Poet and former Fenland Poet Laureate Kate Caoimhe Arthur will read poems and discuss how John Clare's vision of landscape has inspired her work with Fine Art Print Maker Iona Howard.

Kate Caoimhe Arthur is from Northern Ireland and has recently returned to live in County Down from the edge of the Cambridgeshire Fens. She was the Fenland Poet Laureate in 2017, and part of the Poetry Ireland Introductions scheme in 2018. She works in collaboration with the Fine Art printmaker Iona Howard and is working on her first poetry pamphlet, with funding from the Arts Council of Northern Ireland.
DESTROYING BEAUTY
In this talk I will consider the significance and resonances of this phrase from John Clare's prose writing. I will think about the ways in which Clare's vision of landscape, discomfort with its interference, and examination of 'the natural' has informed my own thoughts as I walked the Cambridgeshire Fens and in the creation of my own poetry. I will discuss the creative partnership with the fen artist Iona Howard, with examples in poetry and visual art from our collaboration.
If you'd like to attend please email cjcs@english.cam.ac.uk to receive a Zoom link.