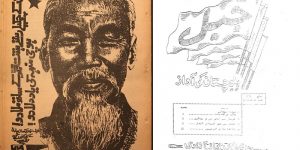 Dissident Histories of Pakistan
We would like to invite you to a joint virtual launch of
The South Asian Resource and Research Centre (SARRC) Archive
&
Revolutionary Papers (RP) Digital Teaching Tools
1 Nov 2021, 1:30-3:15 PM (GMT + 1) via Zoom
The event, which will be live translated into Urdu and English, is part of a collaborative research project based out of Cambridge English, LSE Sociology, and UWC History.  Dr Chana Morgernstern, Associate Professor in Postcolonial and Middle Eastern Literature, is one of the main organisers of the event and Sara Kazmi, PhD candidate in the Faculty of English and Queens' College, is an RA on the project.
Co-hosted by SARRC, Revolutionary Papers, Archives of the Disappeared at LSE Sociology.
SARRC is an archive of Pakistan's socialist and democratic movements based near Islamabad. RP is a transnational collaboration exploring 20th century periodicals as forums of Left and anti-colonial thought.
Self-funded, volunteer-managed and compiled by political organiser and poet Ahmad Salim over a forty-year period, SARRC showcases magazines, newspapers, books and other materials produced by progressive struggles in Pakistan and South Asia. SARRC will launch a digital search catalogue and revamped physical library that makes its 45,000-strong collection available to scholars and organisers researching progressive histories in Pakistan and South Asia.
The cataloguing project is co-led by Ahmed Salim (SARRC) and Mahvish Ahmad (LSE, SARRC Trustee), and co-funded by the Modern Endangered Archives Program, UCLA and LSE Sociology.
RP explores how Left periodicals developed alternative networks at times of imperial and sovereign repression, and articulated unique political vocabularies that addressed local concerns and tied them to global revolutionary politics. RP will launch its Digital Teaching Tools initiative, which provides educators and organisers with the means to teach radical periodicals in classroom and movement contexts.
It is co-founded by Koni Benson (UWC), Chana Morgenstern (Cambridge), and Mahvish Ahmad (LSE).
As part of the joint launch, we will share the first two RP Digital Teaching Tools, based on two 1970s left-wing publications from the SARRC collection:
1. Jabal, an underground bulletin of the Balochistan People's Liberation Front | Presented by Mir Muhammad Ali Talpur & Mahvish Ahmad
2. Mazdoor Kissan Party Circular, the party organ of the Maoist Workers' and Peasants Party | Presented by Sara Kazmi
Read more on www.sarrc.org.pk and www.revolutionarypapers.org. Note: New, redesigned websites will be available on both links closer to the launch date.
Schedule:
1:30-1:40 Welcome: On Revolutionary Papers from Pakistan, Mahvish Ahmad
1:40-2:10 Introducing the SARRC Archive, Ahmad Salim, Shahzad Abbas & Fahad Desmukh
2:00-2:40 Teaching Revolutionary Papers: Jabal and the MKP Circular, Chana Morgenstern, Mir Muhammad Ali Talpur & Mahvish Ahmad, Sara Kazmi, Koni Benson
2:40-3:15 Q&A and Closing
Speakers (in order):
Mahvish Ahmad | Assistant Professor, LSE Sociology; SARRC Trustee; RP Collective
Ahmad Salim | SARRC Founder and Custodian
Shahzad Abbas | SARRC Chief Librarian
Fahad Desmukh | SARRC Data Architect
Chana Morgenstern | Lecturer, Cambridge English; RP Collective
Mir Muhammad Ali Talpur | Political organiser with the Baloch struggle; public intellectual and writer on Balochistan
Sara Kazmi | LUMS, Lahore; SARRC Researcher; RP Collective
Koni Benson | Lecturer, UWC History; RP Collective
Chair: Mahvish Ahmad, LSE Sociology
Mailing address: revolutionarypapers@gmail.com