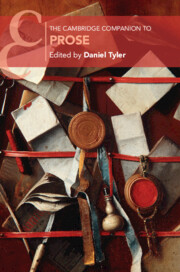 This Companion provides an introduction to the craft of prose. It considers the technical aspects of style that contribute to the art of prose, examining the constituent parts of prose through a widening lens, from the smallest details of punctuation and wording to style more broadly conceived. The book is concerned not only with prose fiction but with creative non-fiction.
As well as editing the collection, Daniel Tyler has contributed a chaper on 'Sentences'.  There is also a chapter on 'Style' by Michael D Hurley, another member of the Faculty of English.
The Cambridge Companion to Prose will serve as a key resource for students of English literature and of creative writing.