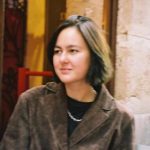 Harper-Wood Literary Reading: Madeleine Pulman-Jones
introduced and chaired by Sasha Dugdale
Thursday 3rd March, 5.15 – 6.30 PM
Wordsworth Room, St John's College.
Madeleine Pulman-Jones, winner of this year's Harper-Wood Award at St John's College, will read from some of her recent work.
Her poems have appeared in publications including PN Review, Poetry Birmingham and Adroit Journal, where she was a finalist for the 2020 Adroit Prize for Poetry judged by Jericho Brown.
https://theadroitjournal.org/issue-thirty-four/madeleine-pulman-jones-poetry/
She has also been a featured poet in The Bad Betty Press's Book of Bad Betties and in The Mays Anthology, and her prose pieces have been published in The Guardian and elsewhere.
Supported by the Harper-Wood Creative Writing and Travel Award, Madeleine is currently spending a year abroad, during which time she is working on a book-length project.
Poet and translator Sasha Dugdale, Writer in Residence at St John's, will introduce the reading and afterwards chair a discussion.
The Harper-Wood Studentship for English Poetry and Literature is to encourage a project of creative writing by making it possible for the holder to engage in relevant, project-related travel and study. Previous holders include Thom Gunn, Michael Hofmann, Giles Foden, Sarah Howe, Erin Soros and Vahni Capildeo.
The event is free to attend and all are warmly welcome. Drinks will be offered.