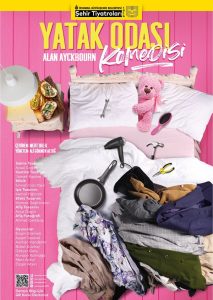 Mert Dilek's Turkish translation of Bedroom Farce has premiered at Istanbul Metropolitan Municipality City Theatre on 9 February 2022. Dilek, PhD candidate at Trinity College, was commissioned to translate Alan Ayckbourn's play in June 2021. He also provided the cast and the creative team with dramaturgical guidance throughout the production process. The play's Turkish version, titled Yatak Odasi Komedisi, has now joined the City Theatre's repertoire and will be staged across ten venues in Istanbul over the coming months.
Set in three bedrooms over the course of a single night, Ayckbourn's comedy portrays the intersecting lives of four married couples and offers an acerbic study of marital dynamics. The play was first produced at the Library Theatre, Scarborough, in 1975 and subsequently, under the direction of Peter Hall, at London's National Theatre in 1977. The City Theatre's production has been directed by Ali Gokmen Altug and features a cast of well-known Turkish talent.
For further information about the production, including images and a trailer, please see
this link
.