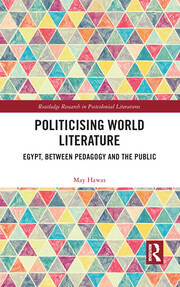 Dr May Hawas's Politicising World Literature: Egypt, Between Pedagogy and the Public has been awarded the Balakian Prize 2022.
According to the jury, "Hawas's book is a critical work of remarkable originality that is consistently analytical and argumentative in its presentation of ideas, with a strong comparative perspective".
Link to announcement about the prize.
Link to further information about Dr Hawas's book.
The Anna Balakian prize is presented at the triennial Congress of the International Comparative Literature Association (ICLA) in order to reward an exceptional first monograph in the field of comparative literary studies, written by a single author who has not attained the age of 40 years.