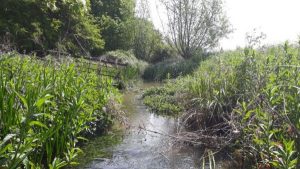 Owned by Everyone? The Wonder, Plight and Future of Chalk Streams is an interdisciplinary conference on the culture, science and future of chalk streams, taking place 30-31 March 2023.
Organised with  partners the NGO WildFish Conservation, the conference is co-hosted by the Cambridge Conservation Initiative and Pembroke College.
As part of the Cambridge Festival, the conference is hosting a public panel session featuring writers and filmmakers.  This event will take place from 7.15-8.45pm on Thursday 30 March in the Cockcroft Lecture Theatre, New Museums Site.  Speakers include Amy-Jane Beer, Tony Eva, Tom Fort, James Murray-White, Adam Nicolson, Alice Willits and Mark Wormald.
An event testing the water of teenage opinion and knowledge about the condition of the region's chalk streams takes place at Hills Road Sixth Form College on 28 March 2023.
Link to the WildFish website: About WildFish | Working To Protect Wild Fish | Wildfish
Link to the Cambridge Conservation Initiative website: Contact | Cambridge Conservation Initiative