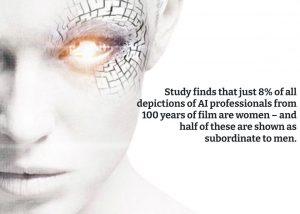 A recent paper on 'Who makes AI? Gender and portrayals of AI scientists in popular film, 1920–2020' has attracted considerable media attention.
The authors are Dr Kanta Dihal, Dr  Stephen Cave, Dr Eleanor Drage and Dr Kerry Mackereth from Cambridge University's Leverhulme Centre for the Future of Intelligence (LCFI).
Abstract
It is well established both that women are underrepresented in the field of artificial intelligence (AI) and that media representations of professions have impact on career choices and prospects. We therefore hypothesised that women are underrepresented in portrayals of AI researchers in influential films. We tested this by analysing a corpus of the 142 most influential films featuring AI from 1920 to 2020, of which 86 showed one or more AI researchers, totalling 116 individuals. We found that nine AI professionals in film were women (8%). We further found that none of the 142 AI films was solely directed by a woman. We discuss a number of explanations for the paucity of women AI scientists in the media, including parallels between film and real-life gender inequality, the construction of the AI scientist as male through gendered narrative tropes, and the lack of female directors.
Links to some of the coverage:
University of Cambridge news page
The Guardian (p. 3 of print newspaper), for which Dr Dihal was interviewed
The Telegraph, for which Dr Dihal was interviewed
BBC Tech Tent (World Service), minute 19
BBC Radio 3 Arts & Ideas – New Thinking: AI, feminism, human/machines.
.