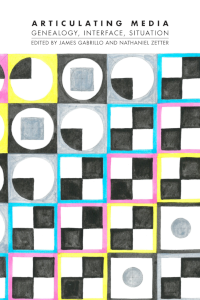 Open Humanities Press is pleased to announce the publication of 'Articulating Media: Genealogy, Interface, Situation', edited by James Gabrillo and Nathaniel Zetter, with one of the chapters written by Caroline Bassett.
Nathaniel Zetter is a College Teaching Associate in English at Selwyn College, University of Cambridge.
Caroline Bassett is Professor of Digital Humanities in the Faculty of English and the Director of Cambridge Digital Humanities (CDH), an inter-disciplinary research programme.
Like all Open Humanities Press books, 'Articulating Media' is available open access, meaning it can be downloaded for free.
Link to further information:  New Publication | Articulating Media: Genealogy, Interface, Situation – CDH (cam.ac.uk)